---
Sold - Jun 18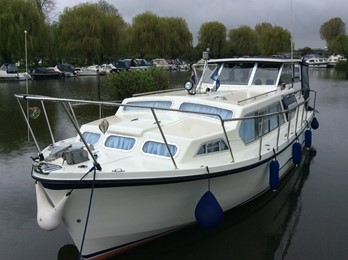 Ocean 30, "Golden Girl"
Boat Length:
28ft 8in (8.74m)
Berths:
4
Year:
Beleived 1973
Fuel Type:
Diesel
This hardtop Ocean 30 has rear sedan doors to enclose the wheelhouse. Golden Girl has been refitted by her current owner to pleasing standards
£21,950.00
Sold - Jul 18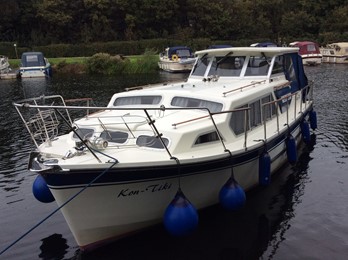 Ocean 30, "Kon-Tiki"
Boat Length:
28ft 8in (8.74m)
Berths:
5
Year:
believed mid 70's
Fuel Type:
Diesel
This hardtop Ocean 30 is a very well presented example of this popular twin diesel engined cruiser. The craft has had many upgrades during the 10 years of current ownership
£23,500.00
Sold - May 18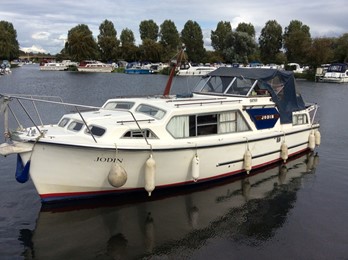 Ocean 30 double aft cabin, "Jodin"
Boat Length:
28ft 8in (8.74m)
Berths:
6
Year:
Believed 1974
Fuel Type:
Diesel
This one owner Ocean 30 was a special customer order which has a rare double berth aft cabin. Jodin has been a popular boat on the Gt. Ouse since 1974
£16,950.00

Further Information on Ocean Boat Models
Ocean Boat Information
The Ocean 30 was first introduced as a Moonraker 30 built by Bell boats of Buxton in the late 1960s. The boat was designed by John bennett and mouldings came from Aqua fibre a sister company to Broom Boats. Herbert Woods of Potter Heigham took over production in the early 70s and by the mid 70s Dick Nunn had taken over production. Towards the end of the 70s the boat was then built by Ray Bondon of South Walsham. During its long production run, the mouldings were supplied to many hire yards in the Broads area who fitted out craft. These craft usually had a single aft cabin. Some double cabin versions were also built for private use.
Ocean Boat Models
Ocean Documents and Original Brochures
---

We are passionate about building a comprehensive archive of boating information. Can you help us with any missing information or brochures?
Please email any historical information you may know or brochures to info@jonesboatyard.co.uk – if we use your brochure on the website we will send you a £10 voucher to use in our chandlery!