We currently have no Princess 25 boats for sale

Princess 25 Model Information and Photo Gallery
---
Princess 25 Photo Gallery Archives
Archived Boats (Boats below not for sale)
Princess 25 Further Reading
The Princess 25 was an all new design by John Bennett and production started in 1974. The hull is deep V in the front section to semi V aft. The craft continued the Pilgrim 25 design of incorporating a wheelhouse hardtop and open plan design. These craft are all outdriven with petrol and diesel options and some twin engined versions. Nearly 250 were built.
Standing headroom in cabin is 5ft 11ins. Length of V berth 5ft 11ins.
Useful Links
Purchase Princess 32 & 32 Riviera Boat Test Reports
Princess 25 Documents and Original Brochures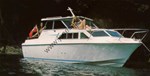 Princess 25
---

We are passionate about building a comprehensive archive of boating information. Can you help us with any missing information or brochures?
Please email any historical information you may know or brochures to info@jonesboatyard.co.uk