---
Sold - May 18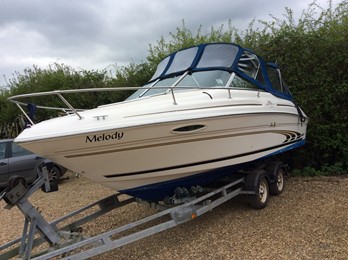 Searay 215 Express, "Melody"
Boat Length:
21ft 4in (6.50m)
Berths:
2
Year:
Believed 1998
Fuel Type:
Petrol
This attractive sports cruiser was refitted by her current owner over the past 2 years. The engine has undergone extensive overhaul. A four wheeled storage trailer is available at extra cost

Further Information on Sea Ray Boat Models
Sea Ray Boat Information
Searay began building boats in 1959,they were the first company to use fibreglass. In 1986 they became part of the Brunswick corporation.They are a major US manufacturer.
Sea Ray Boat Models
Useful Links
Purchase Sea Ray Boats Boat Test Reports
---

We are passionate about building a comprehensive archive of boating information. Can you help us with any missing information or brochures?
Please email any historical information you may know or brochures to info@jonesboatyard.co.uk – if we use your brochure on the website we will send you a £10 voucher to use in our chandlery!