---
Sold - Feb 19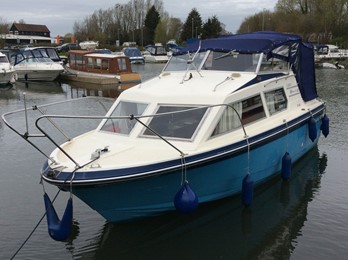 Seamaster 725, "Special Lady"
Boat Length:
23ft 10in (7.26m)
Berths:
4
Year:
Believed 1980
Fuel Type:
Diesel
The Seamaster 725 is one of the last models made by this popular company. This craft benefits from a replacement diesel engine and updated open plan interior.

Seamaster 725 Model Information and Photo Gallery
---
Seamaster 725 Photo Gallery Archives
Archived Boats (Boats below not for sale)
Seamaster 725 Further Reading
This more modern, sporty styled cruiser was designed by John Welch. The hull is a medium V with shallow keel and three spray rails running along either side. The bow is slightly flared to deflect spray. This open plan 4 berth cruiser was introduced at a time when the marine market was failing and only 20 boats were built. Most craft were powered by Volvo petrol/outdrives 120/145a models and D21 diesels. Some twin petrol versions were also produced.
Useful Links
Purchase Seamaster 8. 30 & 27 Boat Test Reports
Seamaster 725 Documents and Original Brochures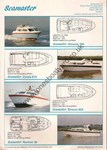 Seamaster Boats (2)
---

We are passionate about building a comprehensive archive of boating information. Can you help us with any missing information or brochures?
Please email any historical information you may know or brochures to info@jonesboatyard.co.uk