---
Sold - Mar 21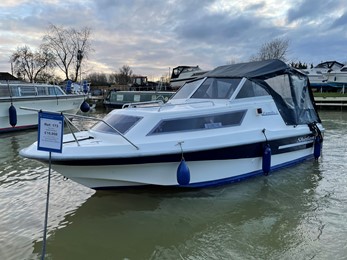 Shetland Family 4, "Unnamed"
Boat Length:
17ft 8in (5.38m)
Berths:
2
Year:
Believed 2006
Fuel Type:
Petrol
This nicely presented Shetland Family 4 is a compact river cruiser with a large, sociable cockpit and overnight accomodation if required. Recently compounded and polished, antifouled and engine serviced by Jones Boatyard December 2020.
Sold - Mar 21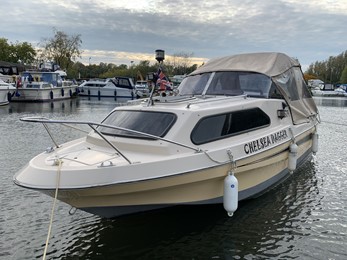 Shetland Family 4, "Chelsea Dagger"
Boat Length:
17ft 8in (5.38m)
Berths:
4
Year:
Believed 1983
Fuel Type:
Petrol
The Shetland Family 4 has proven to be a very popular river boat with a sociable cockpit and overnight accommodation. This boat was modernised by a previous owner in 2016.

Shetland Family 4 Model Information and Photo Gallery
---
Shetland Family 4 Photo Gallery Archives
Archived Boats (Boats below not for sale)
Shetland Family 4 Further Reading
This craft was a development of the very successful Shetland 535/536 and offered a cabin layout to include sufficient cockpit length to incorporate side benches/2 single berths. This fit and finish was more sophisticated over its predecessor. The original craft features a conventional outboard well built into the transom. Later designs build to date feature a moulded outboard pod/transom platform. This allows for a larger cockpit with wrap round seating to the stern.
An older version of the Shetland Family 4 was built between the years 1978-1996 without the pod that measured 17ft 5ins/5.37m.
Useful Links
Purchase Shetland Saker, 535 & Cadet Boat Test Reports
Shetland Family 4 Documents and Original Brochures
---

We are passionate about building a comprehensive archive of boating information. Can you help us with any missing information or brochures?
Please email any historical information you may know or brochures to info@jonesboatyard.co.uk