---
Sold - Apr 22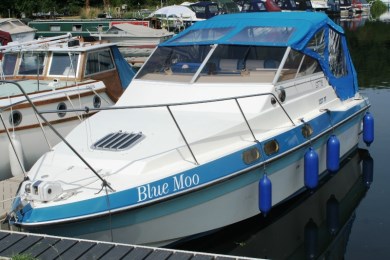 Fairline Sunfury 26, "Blue Moo"
Boat Length: 26ft 4in (8.03m)
Berths: 4 plus 2
Year: Believed 1982
Fuel Type: Petrol
This tidy Fairline Sunfury is a modern styled sports cruiser with good cabin space together with a large elevated cockpit

Fairline Sunfury 26 Model Information and Photo Gallery
---
Fairline Sunfury 26 Photo Gallery Archives
Archived Boats (Boats below not for sale)
Fairline Sunfury 26 Further Reading
These were the first range of the true sports cruisers developed by Fairline. Bernard Olesinski started the modern era with his designs which still are used today. This deep V planing hull craft is designed with performance in mind. The original 26 has 4 conventional cabined berths. The Sunfury has a rear cabin arrangement with large cockpit. This heralded the design ethos of large sociable cockpits for warm sunny use often found in Europe. All models were outdriven. Powered usually by Volvo petrol/diesel engines.
Useful Links
Purchase Fairline Test Reports
Fairline Sunfury 26 Documents and Original Brochures
---