---
Sold - Nov 18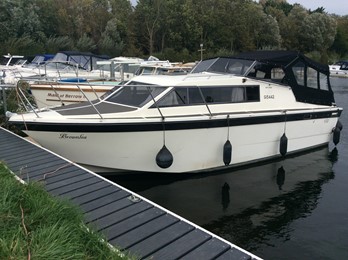 Duchess 9mtr, "Brownlea"
Boat Length:
29ft 4in (8.94m)
Berths:
4
Year:
Believed late 80s
Fuel Type:
Diesel
The Duchess 9mtr is a spacious twin engined shaft driven motor cruiser with an adaptable interior for family use. The twin engines assure easy handling.This is a well presented example of this craft which was supplied new by us.

Further Information on Duchess Boat Models
Duchess Boat Information
The Duchess craft were a development between Boating scene of Basildon and L H Jones and son of St. Ives. As old sailing friends Lawrie Weller and Alaster Gray of L H Jones got together and designed a new motor cruiser based on the Seamaster 820 mouldings which were provided by Viking boats.The idea was to produce an easily handling low powered cruiser for river use. About 10 of these boats were built.
Duchess Boat Models
Duchess Documents and Original Brochures
---

We are passionate about building a comprehensive archive of boating information. Can you help us with any missing information or brochures?
Please email any historical information you may know or brochures to info@jonesboatyard.co.uk