---
Sold - Sep 18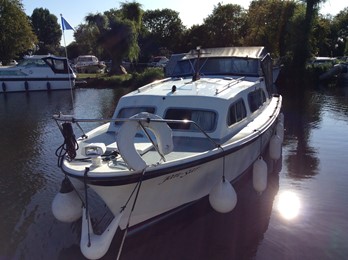 Elysian 27, "Jansar"
Boat Length:
27ft (8.23m)
Berths:
4
Year:
Believed 1967
Fuel Type:
Diesel
This very tidy Elysian 27 was fitted out to high standards by Buckden Marina. This craft was re engined in 1997 with a modern diesel engine.
£11,950.00
Sold - Sep 18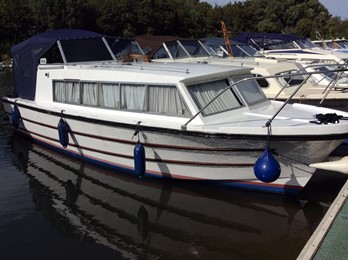 Elysian 27, "Camelot"
Boat Length:
27ft (8.24m)
Berths:
4
Year:
Believed 1977
Fuel Type:
Diesel
This Elysian 27 cruiser was fitted out by Bridge Boatyard, partially refitted in 2016, new canopy 2017.
£10,950.00
Sold - Feb 19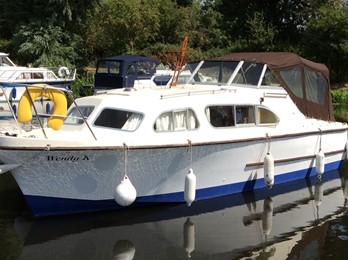 Elysian 27, "Wendy K"
Boat Length:
27ft (8.23m)
Berths:
4
Year:
Early 70s
Fuel Type:
Diesel
The Elysian 27 is a well sized and prictaical family cruiser which is very well suited for use on the the River Great Ouse
£9,950.00

Further Information on Elysian Boat Models
Elysian Boat Information
Appleyard and Lincoln of Ely were wooden boat builders and hirers who were involved in the very early development of GRP production motor boats.The company was in existence during its GRP days from around 1963 to 1976. The company built many Elysian 27s and also the elysian 34. The company site is now called Cathedral marina in Ely.
Elysian Boat Models
Cambridge 27 by Carrington Marine
Useful Links
Purchase Elysian 27 Boat Test Report
Elysian Documents and Original Brochures
---

We are passionate about building a comprehensive archive of boating information. Can you help us with any missing information or brochures?
Please email any historical information you may know or brochures to info@jonesboatyard.co.uk – if we use your brochure on the website we will send you a £10 voucher to use in our chandlery!