---
Sold - Aug 17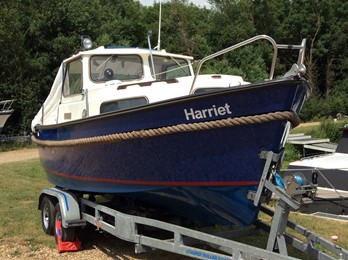 Hardy Pilot, "Harriet"
Boat Length:
20ft (6.10m)
Berths:
2 plus 1
Year:
Believed 1986
Fuel Type:
Diesel
This Hardy Pilot is a rare inboard diesel engine version with Volvo saildrive and tiller and wheel steering. The craft has been overhauled and refitted by her current owner over a number of years.
£9,950.00
Sold - Jun 17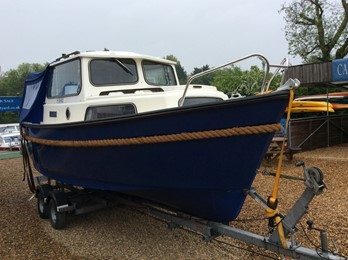 Hardy 20 River Pilot, "Annie"
Boat Length:
20ft (6.10m)
Berths:
2
Year:
Believed 1987
Fuel Type:
Petrol
This very tidy Hardy River Pilot has been refitted internally by her current owner and comes as a complete package to include trailer.
£10,500.00
Sold - Jun 17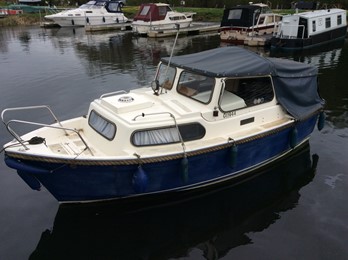 Hardy 17 PH, "Argo"
Boat Length:
17ft 8in (5.38m)
Berths:
2
Year:
Believed 1979
Fuel Type:
Petrol
The Hardy 17 is a stout compact cruiser with traditional styling. This is a well fitted example.
£4,500.00

Further Information on Hardy Marine Boat Models
Hardy Marine Boat Information
John Hardy's long involvement in the boat industry goes back to early Shetland days. Together with the renowned designer Colin Mudie the famous fishing boat range was produced. Various versions of the original design were produced including motor sailors,in latter years the company went on to build their Seawing range, designed by Andrew Wolstenholme, which took the company to new, popular levels. All craft built from this company have a reputation for classic design stout build and kindly sea keeping qualities. The boats are proving to be a timeless design.
Hardy Marine Boat Models
Useful Links
Purchase Hardy Family Pilot & Pilot 20 Boat Test Reports
Hardy Marine Documents and Original Brochures
---

We are passionate about building a comprehensive archive of boating information. Can you help us with any missing information or brochures?
Please email any historical information you may know or brochures to info@jonesboatyard.co.uk – if we use your brochure on the website we will send you a £10 voucher to use in our chandlery!