---
Sold - Jul 20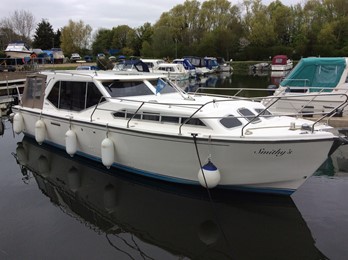 Sancerre 33, "Smithys"
Boat Length:
33ft (10.06m)
Berths:
4
Year:
Believed 2001
Fuel Type:
Diesel
This is a well presented and spacious Sancerre 33 which offers good accommodation in a seperate forwrd cabin and a very light and spacious cockpit.

Sancerre 33 Model Information and Photo Gallery
---
Sancerre 33 Photo Gallery Archives
Archived Boats (Boats below not for sale)
Sancerre 33 Further Reading
This low profile sedan designed cruiser was built by Ray bondon marine of Soth Walsham Norfolk. The majority were fitted out as high class hire boats and usualyy fitted with single BMC diesel engines.Some boats were custom built and had larger twin Ford diesels instaed. The spacious 4 berth lay ut is famed for its large saloon layout
Standing headroom in cabin is 6ft 5ins. Length of V berth 6ft 4ins.
Useful Links
Sancerre 33 Documents and Original Brochures
---

We are passionate about building a comprehensive archive of boating information. Can you help us with any missing information or brochures?
Please email any historical information you may know or brochures to info@jonesboatyard.co.uk