---
Sold - Nov 20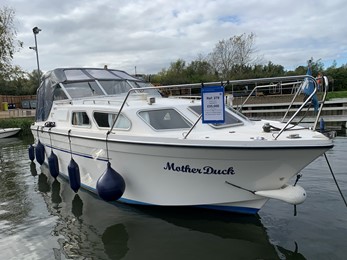 Seamaster 27, "Mother Duck"
Boat Length:
27ft (8.23m)
Berths:
6
Year:
Believed 2009
Fuel Type:
Diesel
The Seamaster 27, 2009 model year, is a stylish and well designed boat with a sociable cockpit and spacious cabin layout. This boat provides comfortable accommodation for 6 and is equipped nicely for pleasant river cruising. This boat is perfect for long weekends or short breaks away on the river.
Sold - Jun 20
Seamaster 27, "Oriole IV"
Boat Length:
26ft 8in (8.13m)
Berths:
4
Year:
Believed 1970
Fuel Type:
Diesel
This twin engined seamaster 27 is a classic river cruiser. Well presented inside but requires some paintwork to the exterior.

Seamaster 27 Model Information and Photo Gallery
---
Seamaster 27 Photo Gallery Archives
Archived Boats (Boats below not for sale)
Seamaster 27 Further Reading
The Seamaster 27 was without doubt Seamaster's big success story. The craft was an in house development of the Seamaster 25 Admiral. The hull design is a hard chine smoothing out to a shallow V towards the stern. There is a moulded keel and usually small bilge keels.
The interior is a classic 2 cabin 4 berth layout and the joinery was in quality timber and to a good standard. The conventional shaft driven system was fitted with Wortham Blake/Ford engines, BMC 1.5 diesels and Perkins 4.107/4.108 diesels.
Useful Links
Purchase Seamaster 8. 30 & 27 Boat Test Reports
Seamaster 27 Documents and Original Brochures
---

We are passionate about building a comprehensive archive of boating information. Can you help us with any missing information or brochures?
Please email any historical information you may know or brochures to info@jonesboatyard.co.uk