---
Sold - Jul 19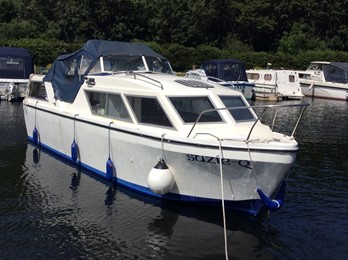 Viking 26 Aft Cabin, "Suzi Q"
Boat Length:
26ft (7.92m)
Berths:
6
Year:
Believed late 80's
Fuel Type:
Petrol
This aft cabin Viking 26 has been refurbished by it current owner and benefits from an economical outboard engine.

Viking 26 Aft Cabin Model Information and Photo Gallery
---
Viking 26 Aft Cabin Photo Gallery Archives
Archived Boats (Boats below not for sale)
Viking 26 Aft Cabin Further Reading
These craft are sized particularly to use on 6ft 10ins canals. They generally have folding screens to reduce air draft. These displacement hull craft are a delight to handle of slow speeds.Most models are well fitted with hot water,showers fridges etc. The hull on this boat was a development of the proven Buckingham 25 hull.
Useful Links
Purchase Viking Boats Boat Test Reports
Viking 26 Aft Cabin Documents and Original Brochures
---

We are passionate about building a comprehensive archive of boating information. Can you help us with any missing information or brochures?
Please email any historical information you may know or brochures to info@jonesboatyard.co.uk