---
Sold - Aug 19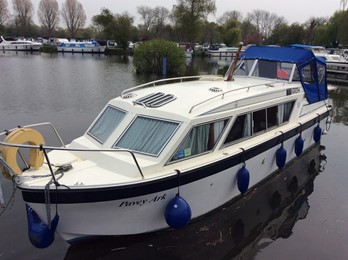 Viking 26 Aft Cockpit, "Pavey Ark"
Boat Length:
26ft (7.92m)
Berths:
4 + 2
Year:
Believed 1987
Fuel Type:
Petrol
A very pracical river and canal boat with and economical outboard engine and good accomodation.

Viking 26 Aft Cockpit Model Information and Photo Gallery
---
Viking 26 Aft Cockpit Photo Gallery Archives
Archived Boats (Boats below not for sale)
Viking 26 Aft Cockpit Further Reading
This model shares the same hull as the aft cabin model but sports a large open plan cockpit forward with a much larger rear cockpit. The boat can still sleep 6 by using a fold out bench seat in the aft cockpit. This hull again was a development of the Buckingham 25.
Useful Links
Purchase Viking Boats Boat Test Reports
Viking 26 Aft Cockpit Documents and Original Brochures
---

We are passionate about building a comprehensive archive of boating information. Can you help us with any missing information or brochures?
Please email any historical information you may know or brochures to info@jonesboatyard.co.uk