---
Sold - Mar 21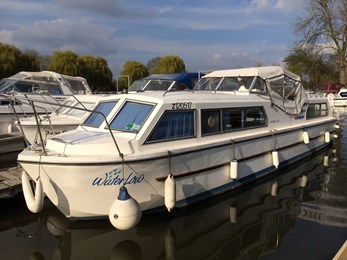 Viking 32 aft cabin, "Water Low"
Boat Length:
32ft (9.75m)
Berths:
6
Year:
believed March 1991
Fuel Type:
Petrol
This well pesented outboard version of the Viking 32 has a larger Honda 40 hp outboard which was fitted new in November 2012

Viking 32 aft cabin Model Information and Photo Gallery
---
Viking 32 aft cabin Photo Gallery Archives
Archived Boats (Boats below not for sale)
Viking 32 aft cabin Further Reading
This large aft cabin boat is a great choice for families were cabin separation and 2 toilets are required. The craft are usually fitted with hot water,shower,and fridges.The design would be ideal for long distance canal passages.
Useful Links
Purchase Viking Boats Boat Test Reports
Viking 32 aft cabin Documents and Original Brochures
---

We are passionate about building a comprehensive archive of boating information. Can you help us with any missing information or brochures?
Please email any historical information you may know or brochures to info@jonesboatyard.co.uk