---
Sold - Jun 17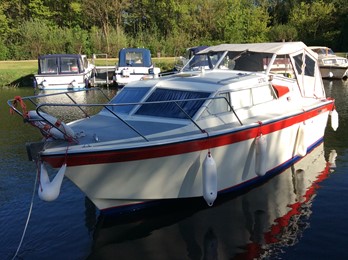 Seamaster 820, "Hideout"
Boat Length:
26ft 10in (8.20m)
Berths:
4
Year:
Believed 1979
Fuel Type:
Diesel
This tidy and very spacious Seamaster 820 is a full canopy version that is fitted with A Volvo diesel engine
£15,950.00

Seamaster 820 Model Information and Photo Gallery
---
Seamaster 820 Photo Gallery Archives
Archived Boats (Boats below not for sale)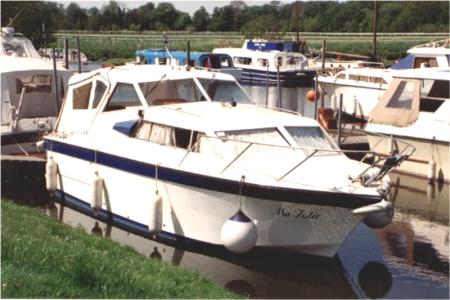 Seamaster 820 Further Reading
Seamaster Ltd ceased trading 2 years after launching the Seamaster 820 but in that time nearly 100 were built. The boat was designed by Bob Hancock. The open plan cabin has 4 berths, and the cockpit has an open backed wheelhouse. The hull shape is a shallow V with a three quarter length keel. Several boatyards have used the deep hull wide beam design to produce their own versions. Carrington Marine built an 820 version and Boating Scene produced a Duchess 9mtr (a joint development with L.H.Jones). The Seamaster 28 is still in production with Viking boats and uses the 820 hull. There were various engines installed.
Useful Links
Purchase Seamaster 8. 30 & 27 Boat Test Reports
Seamaster 820 Documents and Original Brochures
---

We are passionate about building a comprehensive archive of boating information. Can you help us with any missing information or brochures?
Please email any historical information you may know or brochures to info@jonesboatyard.co.uk – if we use your brochure on the website we will send you a £10 voucher to use in our chandlery!