---
Sale Pending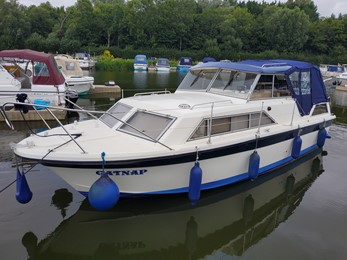 Fairline Mirage Aft Cabin, "Catnap"
Boat Length:
28ft (8.53m)
Berths:
6
Year:
Believed 1982
Fuel Type:
Diesel
This fairline Mirage aft cabin is a  spacious family river cruiser. The interior has been refitted by her owner to high standards to include new linings upholstery and galley
£29,950.00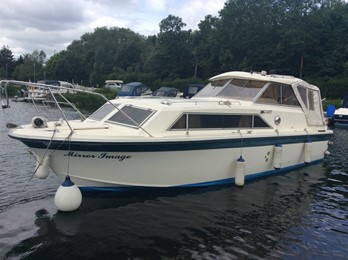 Fairline Mirage, "Mirror Image"
Boat Length:
28ft 5ins (8.66m)
Berths:
5
Year:
Believed 1981
Fuel Type:
Petrol
This Fairline Mirage is a well presented example, and is one of the later builds. This particular example has twin petrol engines.
£19,950.00
Sold - Jun 20
Fairline Sunfury 26, "Gilly Ann"
Boat Length:
26ft 4in (8.03m)
Berths:
4 plus 2
Year:
Believed 1988
Fuel Type:
Petrol
This twin engined classic Fairline Sunfury was re engined with twin Mercruiser 3 litre petrol engines fitted new in 2007 and brings the mechanical systems up to date.
£17,500.00
Sold - Jun 20
Sold - Jan 20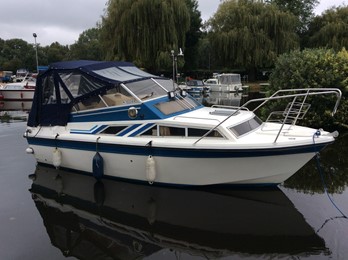 Fairline Holiday mk3, "Wasp"
Boat Length:
22ft 4in (6.81m)
Berths:
4
Year:
Believed early 80s
Fuel Type:
Petrol
A classic sports cruiser from Fairline with elevated cockpit for better vision.

Further Information on Fairline Boat Models
Fairline Boat Information
Fairline boats were founded by Jack Newington who obtained some gravel pits in 1963 to run a hire fleet and marina on the River Nene. The first boat built was a Fairline 19 in 1967 and in 1971 the business was handed to his son Sam, whose entrepreneurial skills developed the company into a world wide sports cruiser manufacture. In 1979 turnover had reached 5 million and Fairline boats became the first UK boat builder quoted on the Stock Exchange. By 2002 the company had built its 10,000th boat, turn over is in excess of £150 million. This gave the company the opportunity of producing craft up to 65ft. Of late, the company has been acquired via a management buyout with city investment. the site at oundle marina has now closed and production is in the more modern factory complex at corby. local people will witness large bubble wrapped craft being trailed towards to Ipswich.
Fairline Boat Models
Useful Links
Purchase Fairline Test Reports
Fairline Documents and Original Brochures
---