---
Sold - Nov 20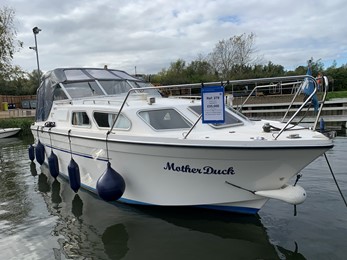 Seamaster 27, "Mother Duck"
Boat Length:
27ft (8.23m)
Berths:
6
Year:
Believed 2009
Fuel Type:
Diesel
The Seamaster 27, 2009 model year, is a stylish and well designed boat with a sociable cockpit and spacious cabin layout. This boat provides comfortable accommodation for 6 and is equipped nicely for pleasant river cruising. This boat is perfect for long weekends or short breaks away on the river.
Sold - Jun 20
Seamaster 27, "Oriole IV"
Boat Length:
26ft 8in (8.13m)
Berths:
4
Year:
Believed 1970
Fuel Type:
Diesel
This twin engined seamaster 27 is a classic river cruiser. Well presented inside but requires some paintwork to the exterior.

Further Information on Seamaster Boat Models
Seamaster Boat Information
Seamaster boats goes back to 1944 when Dick Sparrow(originally a cabinet maker)left London with his caravan, arriving to a field in Dunmow, Essex, which he eventually bought together with some ex W.D. tin sheds. These were used for Dick's original business, making toys, before going into caravan production. These models were called Vanmaster, and 250 caravans were built in total. In 1951, Vanmaster branched into a small boat production, introducing the Seamaster name. Up until 1960, the company was hugely successful, building some 200 craft between 17ft and 26ft. (Dick Sparrow also went onto work with Appleyard and Lincoln of Ely to help develop the Elysian 27)
Seamaster Boat Additional Information
Unfortunately, Dick Sparrow's health failed and Seamaster was acquired by the Brunning family in 1961. At this time, Pat Noyes was appointed as director and general manager. During this period, new models were developed, including the 25, 27, 30 and 8mtr. Seamaster continued throughout the 70s despite the high VAT levys in 1974,but ceased building in 1981. Pat Noyes took over the company name, which in 1983/84 was sold to Bob Chapman of Viking boats, who continues to this day making craft under the famous model name.
Seamaster Boat Models
Useful Links
Purchase Seamaster 8. 30 & 27 Boat Test Reports
Seamaster Documents and Original Brochures
---